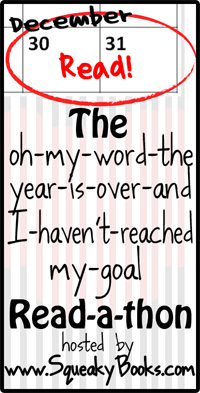 EEEK. I have 5 books to go before I reach my goal of 100 books this year. I *think* I can do it. Admittedly, two of them are going to be children's books (hey, those are books!) but you gotta do what you gotta do. So here's my list:
Nick and Norah's Infinite Playlist by Rachel Cohn and David Levithan (41% done!)
Happy Birthday Moon by Frank Asch (not started)
The Immortalists by Kyle Mills (21% done!)
The Land of Oz by Frank Baum (page 58 of 274!)
I know that's only four...ummm, maybe I will find one more?!?
Wish me luck! And head on over to
Squeaky Books
if you want to sign up..you have like a day and a half left in the year you can totally do it!