TGIF is a weekly event hosted by Ginger at
GReads
.
Gateway Books: Which particular books opened you up to a new genre?
What an excellent question! While I've been reading a crapload of the same old same old (Mystery & Middle Grade, with the occasional popular YA novel), there are some genres that I wouldn't hesitate to read because of a a few excellent gateway books.
My friend reads all kinds of sci-fi and she suggested that I start with this one. I was hesistant because I wasn't so into super fine print and made up worlds whose names I couldn't pronounce. But Old Man's War is sci-fi for people who sci-fi curious. The basic premise is that once you turn 75, you go fight in this war in space. Presumably, you die out there protecting the planet. Imaginitive and fast paced, this book is one of my favs in the genre and has me curious to read others like it.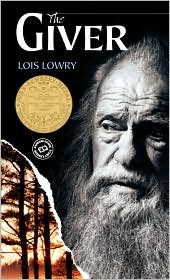 I don't remember who told me to read this but I'm glad I did. This is supposedly for Middle Graders and up, but it is Dystopian at its finest! The major ingredients that makes or breaks a dystopian novel for are:
1. Does this seem like something that could happen?
2. Is there some sort of major twist?
3. Is it freaking awesome?!
The Giver covers all these things. I won't reveal the shocker but this short book is worth the read if you want to see what, in MY opinion, is what dystopian should always be like.
Follow my Blog Friday is hosted by Alison at Alison Can Read and Parajunkee at Parajunkee.com
Today's Question is something new, an activity. We want to see what you look like! Take a pic with you and your current read! Too shy? Boo! Just post a fun pic you want to share.
Snuck a picture at work before anyone noticed I was taking pics of myself.
Here I am with modest make-up and an updo sneaking a read and a pic at work! Just took this a few minutes ago :) By the way, that book (
House of the Lost
by Sarah Rayne) is super creepy and I can only read it during the day time hehe!!
Thanks for stopping by, drop a comment and I will be sure to do the same :)