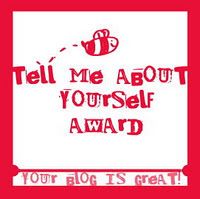 Well, don't mind if I do!
The lovely folks over at
Wall-to-Wall books
were kind enough to give me this super cute award!! I haven't gotten an award in quite some time so I am very grateful for this one!
The rules for this award are:
1. I must tell seven things about myself.
2. I must pass the award on to 15 other bloggers.
At this point, I have NO CLUE who still accepts awards so if you do, please feel free to take this one from me as your own. Make sure you let me know so I can read about lovely little you :)
Here are my 7 things (short and sweet):
I'm originally from Brooklyn, NY.
I am an opera singer (like, for real).
My favorite color is Red!
I have 1 brother and 1 cat.
I am unapologetically addicted to video games.
I
love
seafood!
Needless to say, I can stay in a library/bookstore for HOURS.