TGIF at GReads is a cool hop hosted by Ginger! She always has super cool questions and whatnot. This week, she's asked us to name 5 blogs we like!
Blogs that make me smile!

GReads
:
Is this kind of lame for me to include the hosting blog? No, I don't think so. I love the layout of her page and the amazing buttons. I of course enjoy the content as well and the structure of just enough memes in proportion with reviews! You rule darlin!
Small Review
:
Small has been a fav of mine for a long time! She has what I think any blogger would love: Solid (and I mean solid) reviews, a clear genre that she enjoys and devoted readers. This one's for you, Small!
Crazy-For-Books
:
Jen was my first favorite blogger. I was enamored with her site and her buttons and her hop! Hers remains one of the many blogs that makes me smile.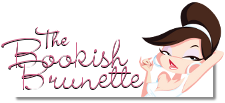 The Bookish Brunette
:
Now, while our reading tastes are mostly dissimilar, who can deny the amazing-ness factor of this lady's page?? I was so inspired by how cute and thorough her blog is, that I put it in my sidebar. I could stand to visit it a little more often too!
Gosh I'm sure there are a zillion others but, it's 9:30am and I haven't had my coffee yet.