So here we are on Day 3 of

Armchair BEA

and we're shouting out awesome bloggers. I have been so out of the loop. So please forgive me if we are close bloggy friends and I've left you off this list. I'm typing it really quickly as I'm at work.
There are way too many of you to name but here are some that pop into my head right away: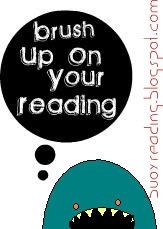 When I want to read inventive reviews & features, I check out: Nina @
Brush Up on Your Reading
: Nina's reviews rock my socks. I also love that she is eclectic in her book choices!
When I want to check out awesome how-to posts and thorough, realistic reviews, I go to:
Small Review
- She effortlessly creates involving posts that always have zillions of comments because of the fantastic content.
When I was to get a visually pleasing, all inclusive review site (with movies sometimes too!) I click on: Lisa's
Baffled Books
page - It's like a party over there!
Additionally, there were some bloggers that had their voice and blog layout figured out and were (and still are) a huge inspiration for the things I do and the way I do them. So here are some bloggers I don't have a personal relationship with but still think you should check out if you're new.
Blogs I look up to:
And here is an ongoing list of my friends...
Personal favorites:
And since I'm doing this at work, I will edit this to add more bloggers. Hope you enjoy my suggestions!