<a href="http://lazygirlreads.blogspot.com/search/label/library%20thursday"><img src="http://2.bp.blogspot.com/_OMUWkSff7nQ/TR_kR-1QCMI/AAAAAAAAATU/xHxlMwj55SA/s1600/LibraryThursdayButton.jpg" />
Library Thursday
is a weekly blog hop that I've started to:
1. Encourage people to support their libraries when they can
2. Meet new bloggy friends and grow your following
How to participate (UPDATED):
Create a Library Thursday post with a list, pictures or a vlog of your books.

Or feature a cool picture of a library, or spotlight one of your favorite libraries.

Grab my button if you like it and include it in your post! Make sure to shout the library out that you went to!
Once you've created your post, link it to the linky at the bottom of my weekly post
Hop around to the other blogs participating and check out what other people are reading. Be sure to leave them a comment to let them know you were there, this is about making friends as well!
This week, I have some super awesome thrillers on hold that are ready for pick up: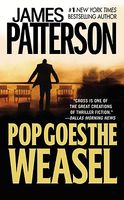 Pop Goes the Weasel,
James Patterson
"Alex Cross is back in an amazing thriller by James Patterson. Geoffery Shaefer, a British diplomat, is a player in a bizarre fantasy game resulting in many deaths in the Washington D.C. area. When Cross gets involved in the game, the rules start to change and Cross' family is in danger. Cross is back and better than ever."
Angels and Demons

, Dan Brown

Angels and Demons is Dan's Brown first Robert Langdon thriller. It takes place chronologically before The Da Vinci Code, although it doesn't matter which book you read first. Both books involve conspiracies within the Catholic church, but Angels and Demons has more action within Rome and the Vatican. Angels and Demons is a fast paced thriller that provides an entertaining escape for the reader.