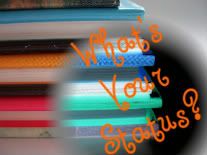 What's Your Status is a weekly meme hosted by my new bloggy friend Zakiya @
Butterfly Feet Walking on Life
! I found it on my other bloggy friend,
Small Review
's page and am also going to use a format similar to her week re-cap.
Reviews:
Princess in Love by Meg Cabot
Memes:
Lah's Random Thoughts on the Week:
This week was a lot slower than last week! I won a Memetastic Award and as promised here are the answers I gave with the truths explained:
1. I have my own apartment now because my *parents* moved out
. This is the whole truth
! My parents got a cooler apartment downtown Brooklyn and they moved away!
2. As my cat is a purebred and descendant from Asian Tree Leopards, she has a special diet. --
Half truth
The reason she has a special diet is because isn't because she's a Silver Bengal but because she's got a little bit of a disease that gives her crystals in her stomach :(
3. My High School friends and I were in the audience of TRL on MTV in 2001 because we won a contest at my school. --
Half truth
We were on TRL but it was because we were in the middle of Times Square having a rowdy good time and a TRL scout literally come up to us and asked if we wanted to be in the audience.
4. I went to Rome and forgot to throw a penny in the Trevi and as a result, I haven't been back since.--
Half truth
I did go to Rome and I did forget the penny but I haven't been back because I can't afford it.
5. I sang the national anthem on the stage of the Ricki Lake show but it was unaire
--Half truth
I sang the National Anthem on a commercial break and won a t-shirt but it wasn't aired was because it was during commercial break
Have a great a weekend!