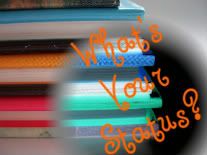 What's Your Status is a weekly meme hosted by Zakiyah @
Butterfly Feet Walking on Life
. The format I'm using is very similar to
Small Review's
weekly re-cap posts.
Memes:
Music Monday
(New Feature!)
Ten Good Things on a Monday
Library Thursday Blog Hop
Deeply Desperately by Heather Webber
Through the Looking-Glass by Lewis Carroll
Lah's Thoughts on the Week
I took it VERY easy this week because I've got a new temp job with normal working hours (yes, I was unemployed previously so I had a whooooole bunch of time on my hands to blog and read!) If, God willing, this position continues, I will time manage maintaining the blog with my new schedule
I also took it easy because I'm preparing an opera recital in two weeks (actually a week and a half now!)
This month, I won 3 giveaways!!!!!!!!! I never win ANYTHING! I am psyched and will post my winnings as an IMM post when I get them!
Have a Great Weekend!