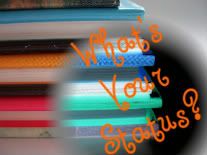 What's Your Status is a weekly meme hosted by my new bloggy friend Zakiya @
Butterfly Feet Walking on Life
! I found it on my other bloggy friend,
Small Review
's page and am also going to use a format similar to her week re-cap.
Reviews:
Memes:
IMM
It's Monday, What are you Reading?
Ten Good Things on a Monday
Talk to Me Tuesday
"Waiting On" Wednesday
Library Thursday Blog Hop
Follow Friday
Lah's Random Thoughts on the Week:
I actually went into the book store on my breaks from my temp job today and read over half of the 3rd Princess Diaries book. I also flipped through a few books that I've seen around some blogs (Winter Girls being the most intriguing) and maybe I will pick up some new books from the book store this week!
Also, what planet do I live on where I wrote seven (7...!) reviews in one week. Sheesh man! I'm going to read some long suspense thrillers this week so I can have some variety in my reviews! Otherwise, I will write 9 reviews of the Princess Diaries series next week.
Finally, I'm returning Pretties and Specials to the library. I don't think I want to read the rest of that series right now! I also need way more James Patterson in my life right now.