<a href="http://lazygirlreads.blogspot.com/search/label/library%20thursday"><img src="http://2.bp.blogspot.com/_OMUWkSff7nQ/TR_kR-1QCMI/AAAAAAAAATU/xHxlMwj55SA/s1600/LibraryThursdayButton.jpg" />
Library Thursday
is a weekly blog hop that I've started to:
1. Encourage people to support their libraries when they can
2. Meet new bloggy friends and grow your following
How to participate (UPDATED):
Create a Library Thursday post with a list, pictures or a vlog of your books.

Or feature a cool picture of a library, or spotlight one of your favorite libraries.

Grab my button if you like it and include it in your post! Make sure to shout the library out that you went to!
Once you've created your post, link it to the linky at the bottom of my weekly post
Hop around to the other blogs participating and check out what other people are reading. Be sure to leave them a comment to let them know you were there, this is about making friends as well!
As some of you may have noticed, I've been MIA. This is due to a few things I have going on this week. Good things of course, but things, nonetheless, that have taken me away from the blog for a little bit. So, I didn't make it to the library this week for more than 5 minutes (I picked up a book I had on hold).
I've decided to dedicate this week's Library Thursday to my favorite library in Brooklyn,
The Central Library at Grand Army Plaza!
"Opened on February 1, 1941, the Central Library is the major reference center for BPL's 60-location system. The library's notable architecture was created to resemble an open book, with the spine on Grand Army Plaza and the building's two wings opening like pages onto Eastern Parkway and Flatbush Avenue." ~Brooklyn Public Library Official Site
On a good day, I get to spend a few hours in here without even noticing. The sheer size of the place is mind-blowing.
Here are some very cool vintage pictures I found: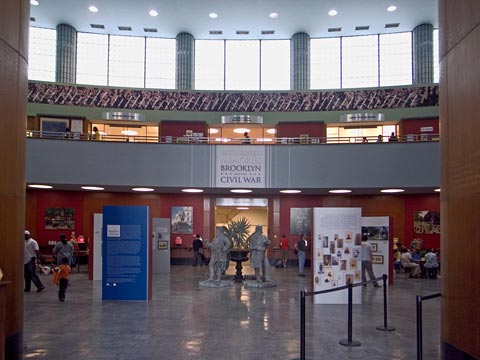 Okay so this is a not so vintage one. It's the inside. This is the main hall where they normally have Brooklyn based artwork or exhibits. This picture is from back in 2007. Next time I get in there, I will take a bunch of pictures and post them!
Thanks for reading about my favorite library in Brooklyn! What'd ya get from the library this week?!