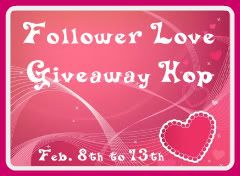 Hey guys! Thanks for stopping by my blog. This is my first giveaway this year and it's going to be very short and sweet..and modest. I wanted to include my international followers so there are two giveaway options!!
For my International Peeps
:
A $10 dollar Gift Certificate to Amazon.com!
(Hey, $10 goes a long way these days!)
For my US Peeps:
How to enter:
Must be a follower (because the giveaway is for followers hehe!)
Fill out the form below!
Make sure you check out all the other cool giveaways:)