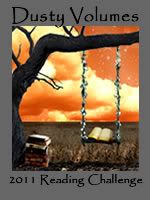 I know what you're thinking: "How can they fit so much flavor in such a small Ritz Cracker?!" But you're probably also wondering how I'm going to finish all these challenges in one year.
This challenge is hosted by
Midnyte Reader
in what seems to be her first challenge! Congrats to her on that!!
To join:
Write a post about this challenge on your blog with a link back to

this

post.

Include a list of the Dusty Volumes you hope to read in 2011. They should have a publishing date before 1960. You can add, subtract or change the list at anytime.
**For a list of complete rules, please click the
button
above!

1. B is for Betsy by Carolyn Haywood
2. Catcher in the Rye by JD Salinger [this will be a re-read]
3.
Alice's Adventures in Wonderland
by Lewis Carroll
4.
The Wonderful Wizard of Oz
by Frank L. Baum